History
Founded in 1919, Illig Construction Company has earned a long-standing reputation for excellence. With headquarters in Los Angeles, Illig Construction has served private institutional and commercial clients as a family operated general contractor for over a century.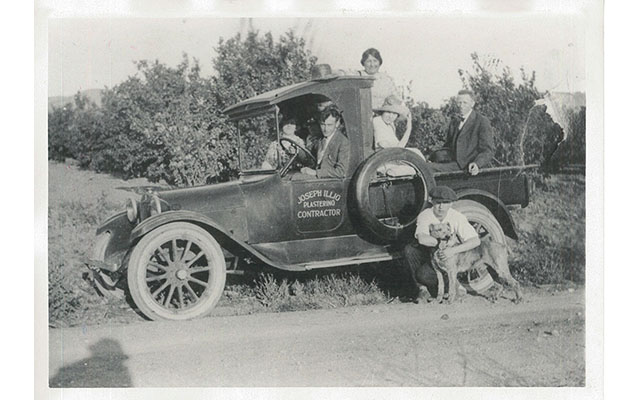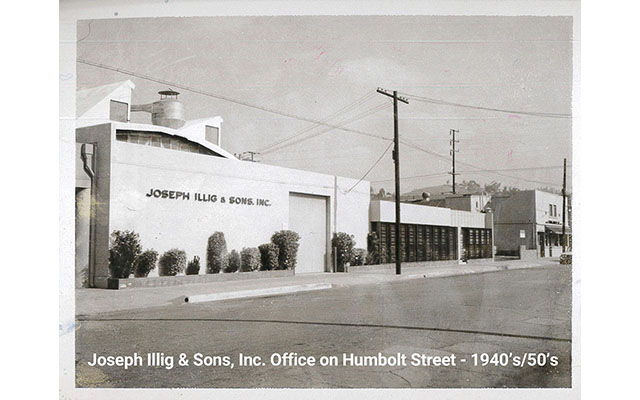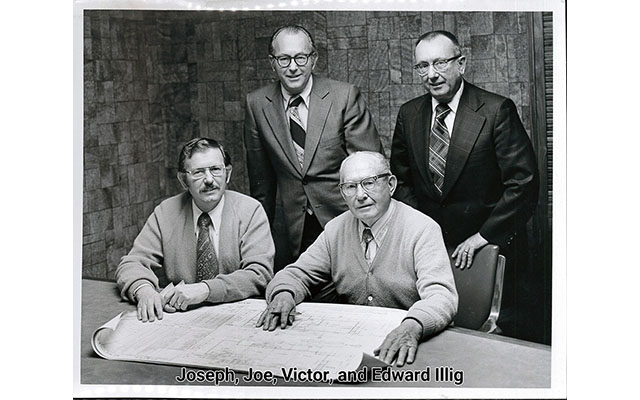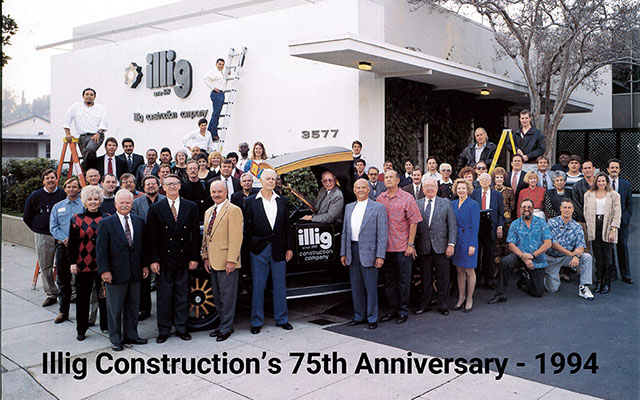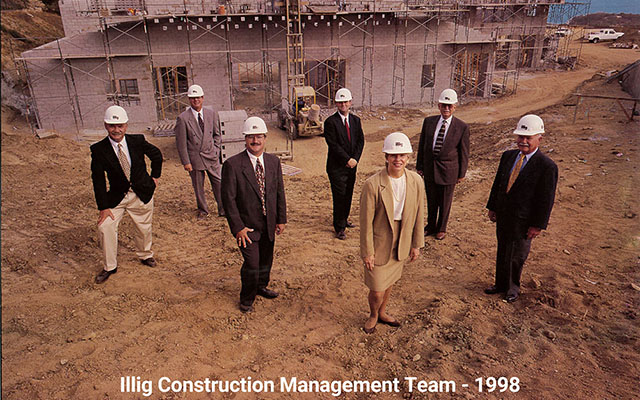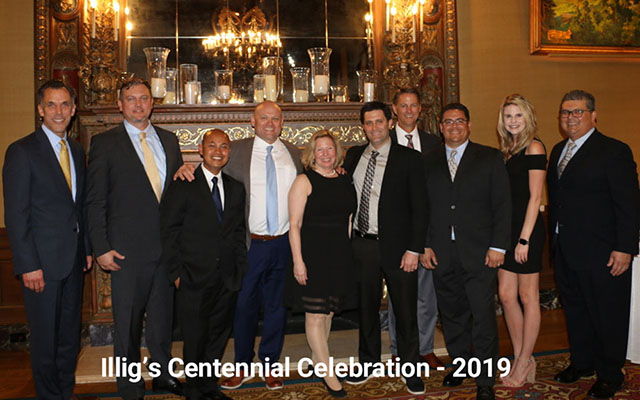 Early 1900s Illig's founder, Joseph Illig, was born in the little village of Sierstal, Alsace-Lorraine, before the turn of the 20th century.  Joseph had a dream and that dream was aimed at America. On borrowed money, Joseph sailed to America arriving at Ellis Island in 1910. He worked for his brother at Corning Glass Works in Corning, New York, carrying on a family tradition of glass engraving.

Joseph left New York for Los Angeles, California for a change in occupation.  And so began his construction career working for a plastering contractor as a hod carrier. After only a year's apprenticeship, he became the youngest plastering foreman and attended night school to improve his English and mathematics.
1919  Joseph started his own plastering business—the roots of Illig Construction Company.  Joseph's trademark was neatness, precision and a top-quality finished product.  Through "word of mouth" advertising, Joseph's work grew and centered on downtown alteration jobs.
1930 The first Illig office opened at Alpine and Yale in downtown Los Angeles.  Carpentry and painting were added to the firm's services and Bank of America became one of its best customers.
1940s/50s The company developed into a structured organization with 60 employees specializing in reconstruction and remodel projects under a new name—Joseph Illig and Sons, Contractors.  The Illig hallmark was the ability to completely remodel a building while its business occupants continued operations as usual. Job sites were neat, clean, disruption kept to an absolute minimum, and the work dispatched with finesse and speed.  Clients included major airlines, banks, stockbrokers, and law firms. The second generation of family leadership included three of the Illig sons, Joe in sales, Victor in operations and Edward in administration. The company's reputation for integrity and quality work continued to grow as did its breadth of services and market sectors—construction, cabinet & millwork, painting, and concrete in the remodel, interiors and new construction markets.  "We did what we said we would do; kept our promises and met our commitments," recalled Edward Illig, President of Illig Construction for the best part of the second generation of management. 
1960s-90s A newly remodeled office on North Figueroa Street and a name change to Illig Construction Company were highlights during the 60's.  Later, the cabinet/millwork and painting divisions were spun off as separate entities, while Illig Construction continued as a general contractor.  With a growing reputation for impeccable detail and finished product, on-time delivery with tight schedules, and high integrity, the company expanded its market sectors. Flagship projects included historical restorations of the Beverly Hills City Hall, the Hollywood Roosevelt Hotel and the Margaret Herrick Film Library for the Academy of Motion Picture Arts & Sciences.  Significant interior development projects included headquarter offices for ARCO Products, Herbalife, Metropolitan Water District and Security Pacific Bank.  Illig Construction Company also developed a niche in high-end retail, building many of the flagship stores on Rodeo Drive—Gucci, Louis Vuitton, Christian Dior, and Lladro to name a few. 
1998 Illig Construction Company achieved a rare milestone as it entered its third generation of family leadership with Rita Illig Liebelt as President since 1998. The Illig Family culture is rooted in community service with a legacy of leadership on many nonprofit, education and civic boards, and this spirit of "giving back" continues today.  Illig's history of serving nonprofit organizations, private education and churches with their building development is a reflection of this commitment. 
2010 In a focused strategy to identify a partner that shares Illig Construction Company's core business values and provide a foundation for future growth, Illig Construction Company was acquired by Tilden-Coil Holdings early in 2010.  Tilden-Coil Holdings also owns Tilden-Coil Constructors, a general contractor headquartered in Riverside, CA that has been building in Southern California for 80+ years.  Both Illig Construction Company and Tilden-Coil Constructors share the same core business ethics and values and have earned longstanding reputations for building with integrity. Although both companies remain separate corporations, they share resources across the firms:  talented construction team members, in-house BIM experts, state-of-the-art systems and strong capital and bonding capabilities. 
2019 Illig Construction Company celebrates its centennial anniversary and its leadership and management continues under Rita Illig Liebelt, President. Illig's commitment to its clients and the communities it serves continues into the next 100 years. 
Our Service Model
Our service model is simply Illig Construction's blueprint to serve. Similar to building a project, we understand the value of having well designed blueprints. It minimizes confusion, reduces assumption, and greatly increases the clarity for all that will be invested in the project.
With this "Blueprint" we call a service model, we are able to document our culture to ensure we add more value to our clients, staff, partners, and community, all while increasing predictability and consistent service.
Our Service Model is designed to serve our TOP Client, those who understand the benefits of a lasting relationship focused on successfully navigating the development process.
We begin by listening and ensuring that we fully understand our clients' goals and objectives. Our team then develops a project specific plan to meet those objectives with metrics for tracking throughout preconstruction and construction. We hold ourselves accountable to achieving these objectives and exceeding our clients' expectations and we validate this achievement with detailed surveys along the way with our clients, design partners and other key project team members. Our ultimate goal is to earn our clients' and project team members' trust and build lasting relationships.
PURPOSE
---
"We exist to serve by shaping futures."
For over a century, Illig Construction Company has been serving its clients, industry partners, employees and community in shaping a better future. We are builders, but our deeper purpose is to serve beyond simply constructing buildings. We serve to positively impact the lives of the people we partner with, those in our communities and those who will ultimately utilize the spaces we build. Our clients engage us not just to build, but to share their vision and do whatever it takes to accomplish team goals.
We will be principled…

Through integrity and honesty,
We will lead the way in our industry,
We will create the highest standard of excellence,
We will do the right thing.

We will add value…

Through experience and reputation,
We will listen and be solution oriented,
We will be flexible, versatile and innovated,
We will always be considerate of our clients' needs.

We will satisfy our clients…

Today's clients are tomorrow's references,
We will build quality, lasting relationships,
We will earn our clients' trust and confidence,
We will exceed our clients' expectations.